Discussion Starter
·
#1
·
Hi everyone
I´m writing from Brazil and would like to share my Peugeot 208.
As most of people might not know Brazil market, Peugeot never offered 206 nor 207 in sport versions such as GTI , GTI 180, RC. Nor the 208 is being offered so far. There is some expectation that it may arrive next year...
So I had to go with the top version which is not like a GTI but it is fine for me so far.
My 208 is a Griffe 1.6 16V VTI Automatic Gearbox which here in Brazil accepts gasoline or ethanol fuel and also has the panoramic glass roof. The only bad part is that automatic gearbox is 4-speed, so the performance is not the best. But for my city (Sao Paulo) it is ok, as my average speed here every week is around 18-20km/h (11-12mph) and 4, 5 or 6 speed doesn´t make much difference.
Pictures (click on those thumbnails if you want to see it bigger):
Original as it arrived:
After 2 months, 2.300km in the clock, with some upgrades: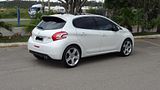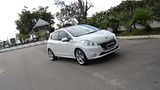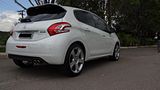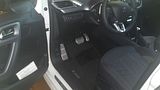 Some of the upgrades:
- roof spoiler
- sport pedals and footrest
- sill protectors
- original 18" wheels and tires from 308cc (Lincancabur , 225/40/18)
- dual exhaust tip
- rear bumper frame for the dual exhaust tip
- 4300K Morimoto Xenon Kit for the low beam and fog lights
- leds for the rear license plate
Additional modz completed:
- unlock SMEG for video playback and smart mirroring from the smartphone (Android, via Miracast)
- installed european 208 speedo, as I prefer the needle style for fuel/temp gauges and also the high resolution dot matrix central trip computer. I installed it but found that Brazilian model didn´t have the separate cable/connector for the central cluster trip computer. So I had to rebuild the original cable as the european version to make it happen. All is working smooth now and planning to upgrade to the feline version, with blue illumination surrounds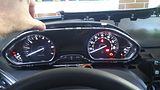 - GTI steering wheels (see pics below)
- GTI / XY / Feline seats but with leather finish (see pics below)
Edited by: erick3.14